So, you've started a new faith-based ministry. Perhaps it's through your local church or totally independent. Now, you need to communicate with people in a way that represents your ministry professionally and also enables you to keep your private email accounts separate. What do you do? Should you open a new Gmail email account? Outlook? Do you bundle your emails with website hosting and use a POP3 or IMAP email service? Do you spend a bit extra to go with a dedicated POP3/IMAP email provider? Or do you use G-Suite or Microsoft 365 with bundled email services? There are a number of possibilities available to you, all offering a different service, different costs, different advantages and different disadvantages, so what is the best option for you and your ministry?
Let's compare the four main options that are available to help you identify which one is going to be the best fit for your fledgling ministry.
A free email account (eg Gmail, Outlook/Hotmail)
There are many free email service providers, but the most popular and arguably best email services today are Gmail from Google and Outlook/Hotmail from Microsoft.
These free email accounts are intended for personal use and so don't permit you to use a custom domain name with a custom email address. Instead, you have to find an email address that is available and it will be @gmail.com or @hotmail.com or something else similar depending on the provider. Since anyone can choose any email address, it's entirely possible that someone else already has the email address you want and you have to choose some other variation of your ministry name.
These free email services allow you to access your mail through their respective websites and they do typically have a very full featured email interface. Alternatively, you can connect to them using your choice of email client like Outlook, or add them to your phone email client.
This isn't a bad place to start. The email services are top-notch, built on the platforms that power their enterprise level products. However, the inability to choose your own domain name and the possibility that someone else already has your desired email address are the main limitations that can in turn have an impact on how professionally your ministry presents itself in communications.
Pros of a free email service for ministry
It's free.
Easy to setup.
Excellent web interface and mobile apps.
Generous amount of storage is included with most providers.
Major vendors are very secure.
Excellent spam blocking.
Cons of a free email service for ministry
Must pick from an available email address, anyone else could already have the name of your ministry.
Cannot customise the domain name (the @gmail.com part).
Cannot extend it with professional services provided as part of G-Suite and Microsoft 365).
Major vendors may scrape your emails to target advertising to you.
Recommended free email providers
Outlook – This is my personal favourite. Hotmail has now been rolled into Outlook as well.
Gmail – Probably the most widely used
Standard POP3/IMAP email bundled with your web hosting
This is the standard email that comes with most website hosting.
These email accounts require you to either use an email client like Outlook or Apple Mail and usually also have some webmail clients available that enable basic email access through a web browser.
The way POP3 works is that they are downloaded to your computer by the email client and then they are usually removed from the mail server. Sent emails are stored by your local email client and the server does not retain a copy of them. So, if you access webmail when you normally use an email client you may find that there are no emails there except for a few that your email client hasn't yet downloaded. This can create a poor experience, especially if a few people need to use the one email account.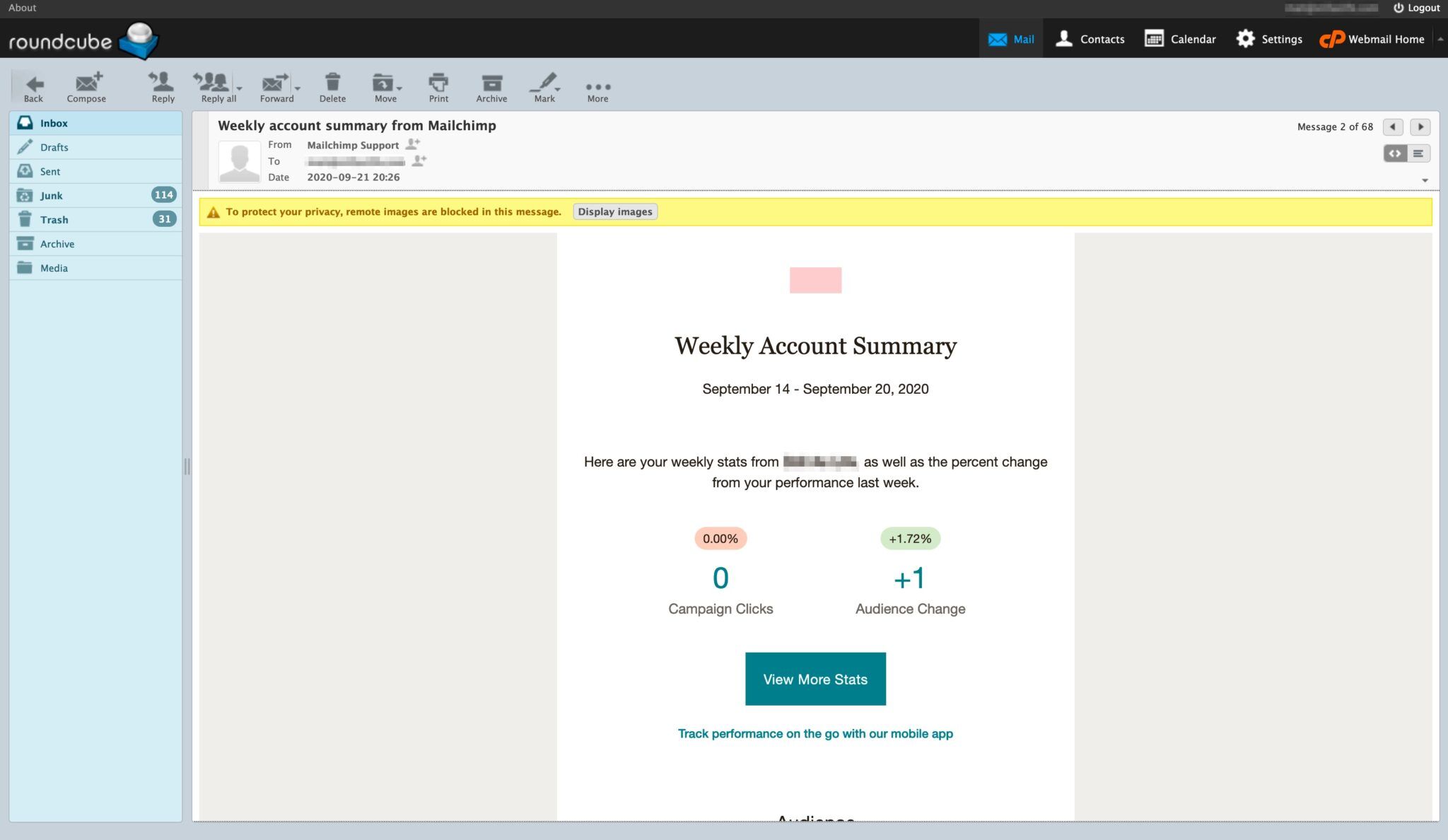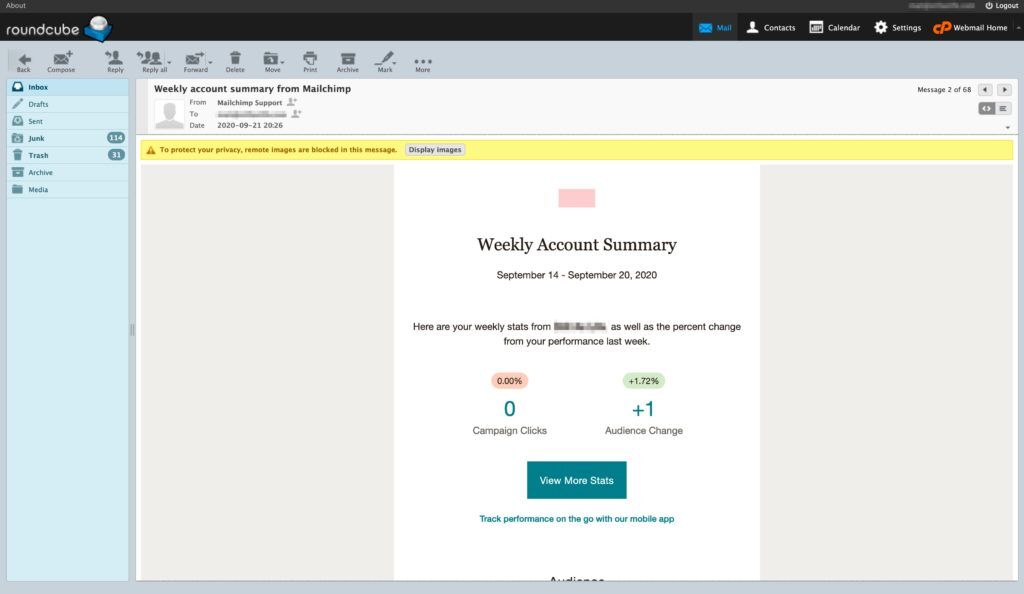 By removing the emails from the server, this allows you to keep your data usage and associated costs low.
If you and your team work primarily on a single computer and generally don't need to access email from anywhere else, then this is likely more than sufficient for you.
The alternative is IMAP, it is accessed in the same way as POP3 email, but your emails are all stored on the server. This can use a lot more space on your hosting account, but it means that you can access all your emails from any device at any time, and if your device is lost or fails, your emails are safely stored on the server. IMAP also allows you to access the same email account from multiple devices and have all emails available on each device.
Whether POP3 or IMAP is used, these email accounts are limited to the size of your hosting plan, so you may find yourself needing to spend more on your website hosting if you choose to use IMAP and keep all your mail on the server.
One other thing to keep in mind is that while web hosts do manage server-level security and provide some anti-spam tools, it is ultimately your responsibility to manage the security of your hosting account. Some hosts may help you with email configuration but it is also your responsibility.
Pros of bundled POP3/IMAP email hosting for ministry
It's included with many web hosts, so if you are building a website, you may get this included at no extra cost.
Can use your own custom domain name.
Can choose any email address you want.
Cons of bundled POP3/IMAP email hosting for ministry
Can sometimes be 'fussy' to setup, especially with Apple Mail on iOS.
Space is limited by your web hosting.
Cannot extend it with professional services provided as part of G-Suite and Microsoft 365).
Webmail interfaces are poor and can be difficult to use.
Security and configuration is entirely your responsibility.
Spam blocking is usually very poor and requires manual tweaking of rules. These email accounts typically get very high rates of spam.
Recommended web hosts that include POP3/IMAP emails
AccuWebHosting – Most recommended. Great service with a wide choice of locations to host your email (including Australia, India, UK, Singapore and more) with no price premiums for different locations. Pricing is extremely competitive.
Hostgator – Highly recommended – Hostgator has been around for a long time and is a massive player. They are very helpful with issues and I have had very little trouble with Hostgator mail connections, especially with iOS devices that are very particular about security settings. Note, pricing is slightly better than AccuWebHosting, but Hostgator will only host your emails in the USA. No other locations are available.
Dedicated POP3/IMAP email service
This kind of email service is almost identical to the kind that is included with many web hosts, however, it is provided as an independent service, sometimes by web hosting companies and some times by dedicated email hosting providers.
An independent service does still suffer from many of the same issues as a bundled email service, however, because the service is dedicated, the vendor typically provides more support and improved email services. Anti-spam tools are typically better on these dedicated services and they are often managed by the email hosting company on your behalf. Similarly, security is often also managed for you.
A dedicated POP3/IMAP email service is a great middle of the road as they are often very cheap and easier to setup.
Pros of dedicated POP3/IMAP email hosting for ministry
Low cost.
Can use your own custom domain name.
Can choose any email address you want.
Security and anti-spam is usually managed for you.
Relatively easy to setup.
Usually comes with a large storage allocation.
Cons of dedicated POP3/IMAP email hosting for ministry
Cannot extend it with professional services provided as part of G-Suite and Microsoft 365).
Webmail interfaces are often poor and can be difficult to use.
Recommended dedicated POP3/IMAP email services
Rackspace – Definitely one of the best dedicated POP3/IMAP email services out there.
Premium G-Suite and Microsoft 365 Business Email
The next level up, and arguably the best choice for your ministry is to go with a premium hosted email service through G-Suite or Microsoft 365.
Both of these options allow you to use your own custom domain name with either the Google Apps Gmail service or the Microsoft 365 Exchange email service. So what is the difference between the two?
G-Suite Email
With very similar functionality to the standard Gmail service, G-Suite allows you to use your domain name on Gmail. So you might have you@yourbusiness.com but access it through Gmail. You also get extra Google Drive storage, Google's office apps, team productivity apps, calendar, and a number of other business tools.
G-Suite is built on IMAP technology but gives you significantly more flexibility and functionality than standard IMAP email. For simple mail access, you are able to either download your email to an email client like Outlook, as well as access it directly online through the Gmail interface.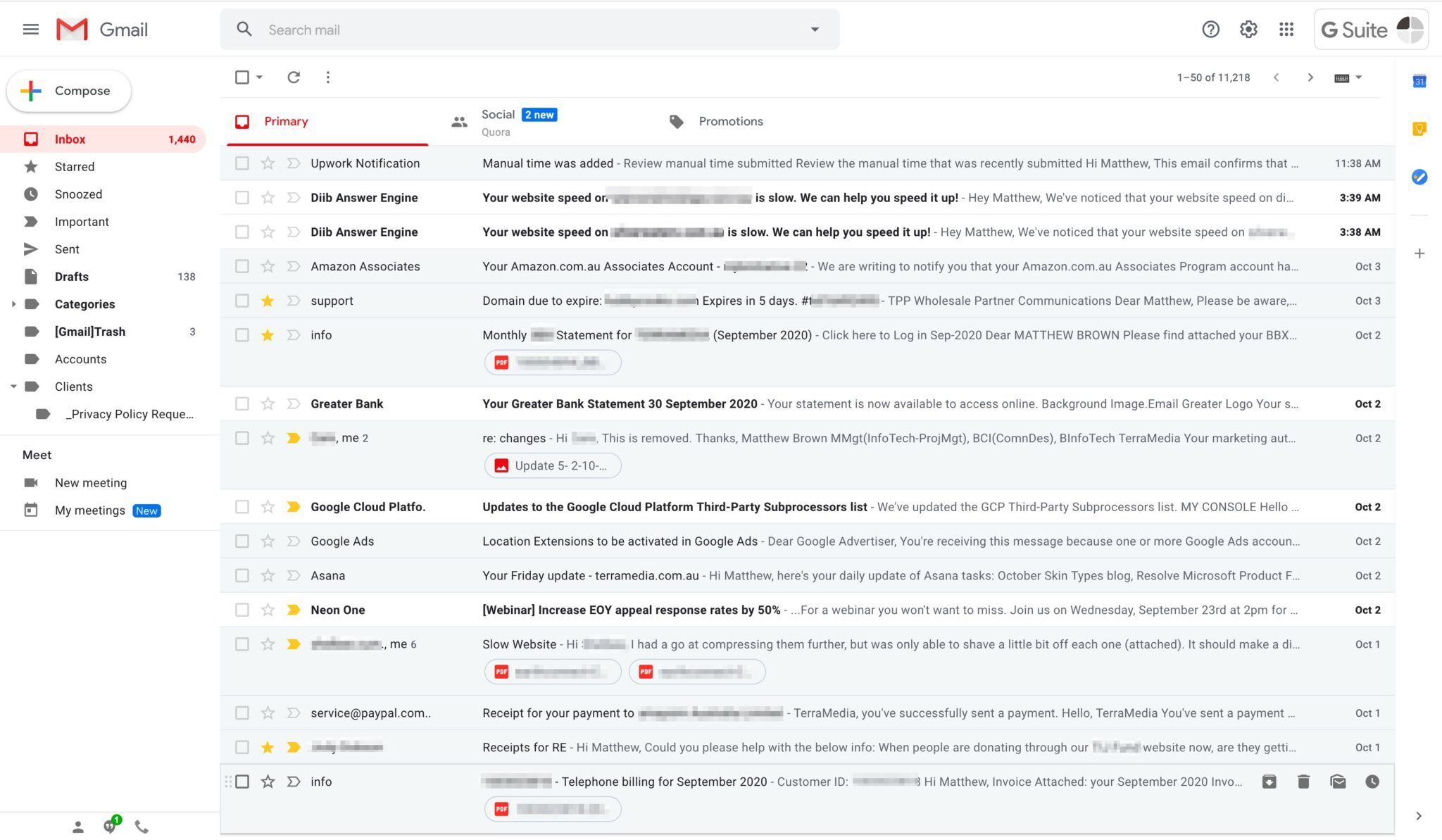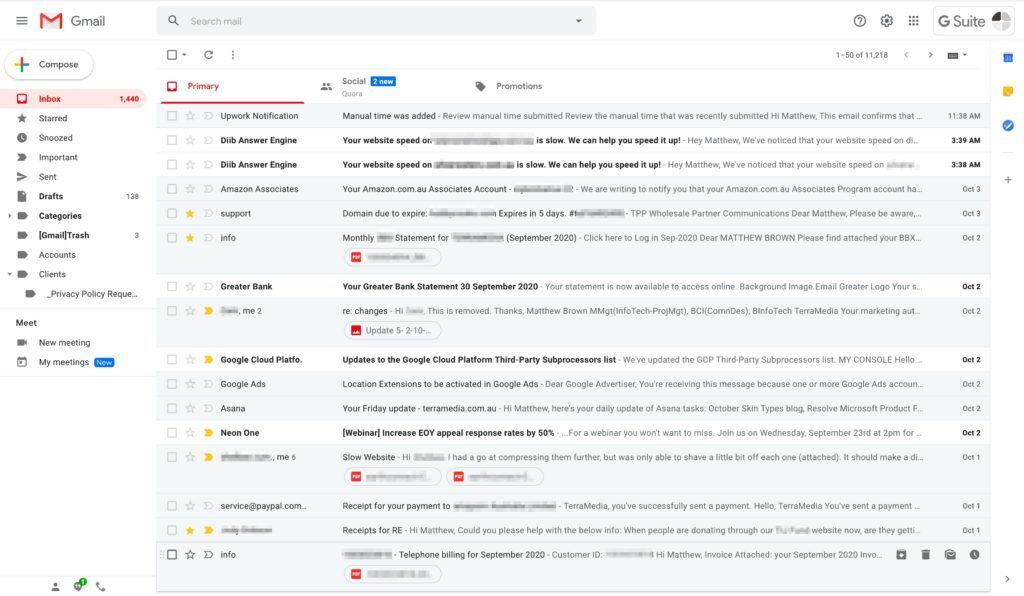 Similarly, you can access all of your emails online using Gmail's excellent webmail application. Regardless of how you connect to your emails, Gmail also integrates seamlessly with Google Calendar for meeting requests and planning. When using the web interface, you can also jump directly into meetings with Google Hangouts and other built-in messaging services.
G-Suite is designed to offer excellent value if you utilise the Google productivity apps, like Google Docs, Google Slides and Google Sheets. Making these tools your go to for word processing, presentations and spreadsheets, it is possible to do away with desktop-based office applications like Microsoft Word, Powerpoint and Excel, except in some advanced scenarios.
If you primarily want to access your email via the web and can get value from switching to cloud-based office applications this may be the solution for you.
Microsoft 365 Hosted Exchange Outlook Email
Microsoft 365 competes directly with G-Suite, but offers some distinct differences.
Hosted Exchange emails that are included with Microsoft 365 are built on top of the enterprise-grade Microsoft Exchange and Microsoft Active Directory platforms. For many, that won't mean anything, but these two server platforms have powered many of the largest businesses and non-profits for years and are the go-to for governments.
Microsoft 365 packages this together with OneDrive and the Microsoft suite of team productivity tools including Microsoft Teams and web-based office applications for slightly cheaper than G-Suite.
Using this option, you can utilise the power of Microsoft's Exchange with Outlook to have your email, contacts, calendar, tasks and notes synchronised between any number of computers and smartphones. Similarly, you also receive access to your email, contacts, calendar and notes via the Exchange webmail view through Outlook Online.
Outlook webmail offers a near replica of the functionality found in the Outlook desktop application, including the ability to switch between inboxes that you have access to. As comprehensive as Gmail is, Outlook beats it out as the most functionally comprehensive web-based email client available.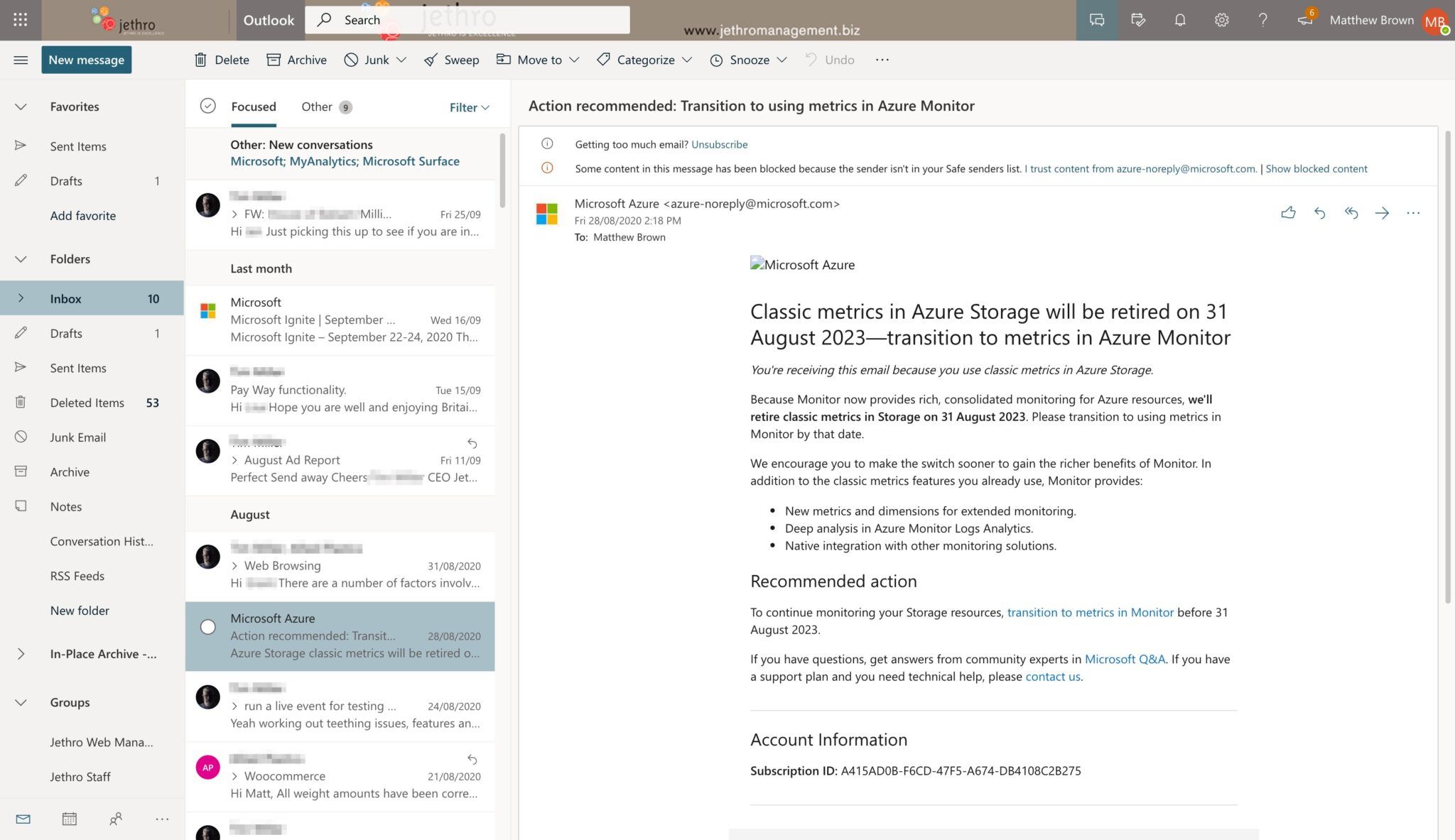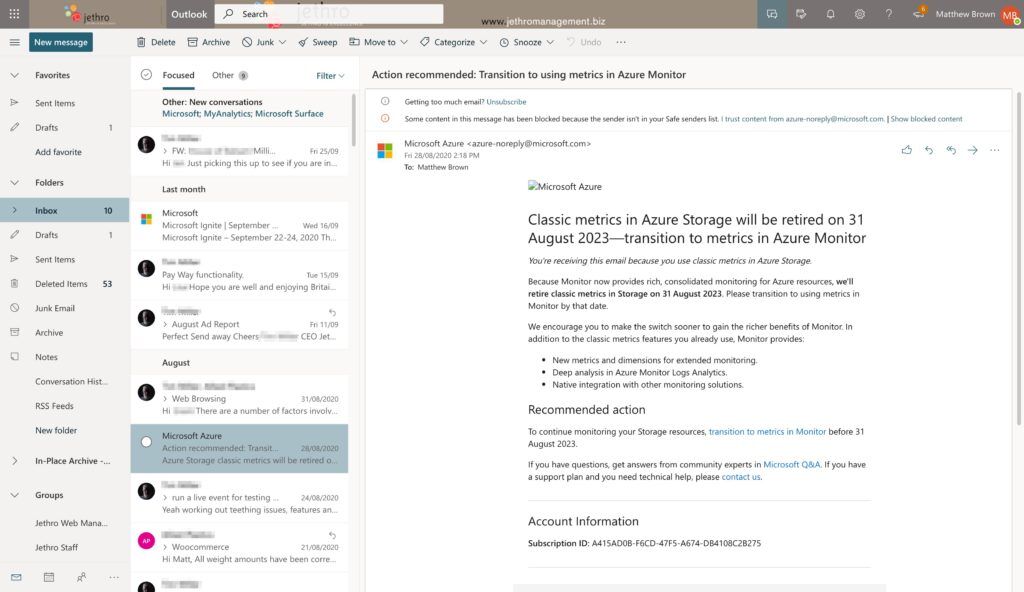 Upgrading from the Basic Microsoft 365 subscription to the Standard subscription also gives you licenses for the full suite of Microsoft Office desktop applications.
Considering the price is actually slightly better than G-Suite and offers better inclusions, Microsoft 365 is the option that I usually recommend for ministries.
Get the best email services for free
There's another reason I recommend Microsoft 365, or G-Suite though.
Both Google and Microsoft offer non-profit pricing for their respective business software suites. The best part is, the basic option from both vendors is free for eligible non-profits, and higher-level subscriptions are substantially discounted.
Eligibility requirements vary from country to country, but in Australia, non-profits must meet eligibility requirements and register with Connecting Up to obtain the discount offers.
For more information on eligibility requirements:
Was this article helpful? Pin it to help others find it too!